Here is my travel bucket list.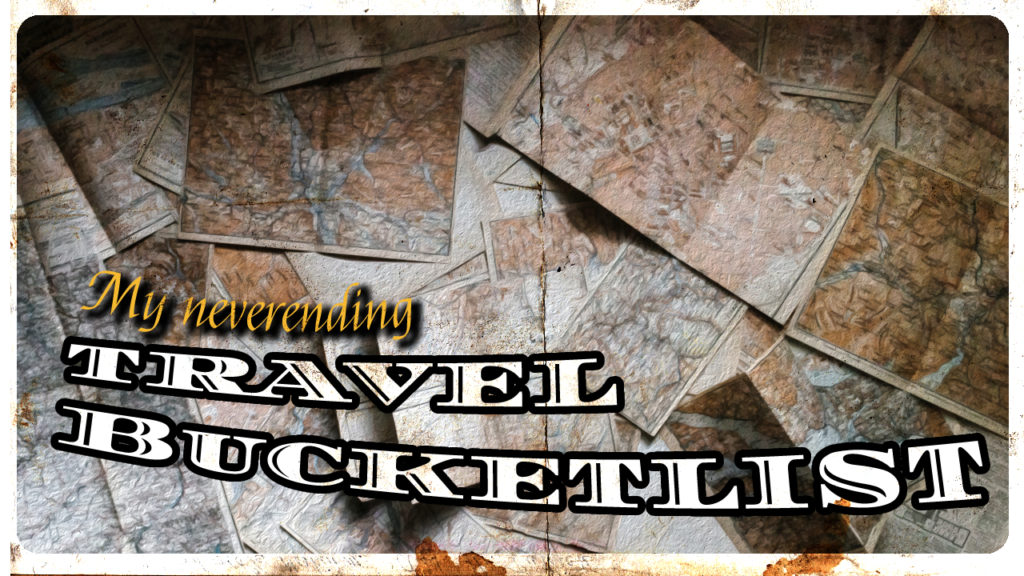 I tend to go to places that sparkle my imagination. So you may hear about those places at some point.
Machu Picchu
Ha Long Bay /Done in 2009/
Petra, Jordan /Done in 2011/
Providence (mandatory for any Lovecraft lover)
NYC
Iceland (I want to hunt for elves!)
Bhutan Temple
Samarkand
Angkor Vat
Easter Island (for the statues of Rapa Nui National Park)
New Zealand (Let's go the Hobbit land!)
Ireland (again! I so want to see the Giant's Causeway)
London (again and again. If you are tired of London, you are tired of life)
Japan (for the countryside)
Etiopia (I dream of the buries churches)
Scotland
Carcassonne, France
Romania (Dracula's castle in Transylvania) /Done in 2019/
Neuschwanstein's Castle, Germany (everybody needs a fairy tale)
Eltz Castle, Germany (probably the most instagramable castle)
Brittany, France (I go there often but I want to do a proper King Arthur tour)
Firenze, Italy
Prague
Budapest
Galapagos Islands
Egypt (been there 20 years ago but I want to to it again with the kids)
Where next?